Omexom has extensive experience in the electricity supply sector providing a complete suite of services including condition assessment, reactive and programmed maintenance and construction on both LV and HV systems.
We provide our customers with local access to an experienced management team and a workforce that is highly skilled in completing specialised work in challenging environments and within tight time frames. We have the geographic coverage and depth of staff to provide an end-to-end capability and a proven track record in the distribution sector.
Our customers benefit from this local capability combined with the extensive international expertise of the Omexom brand within the VINCI Energies group.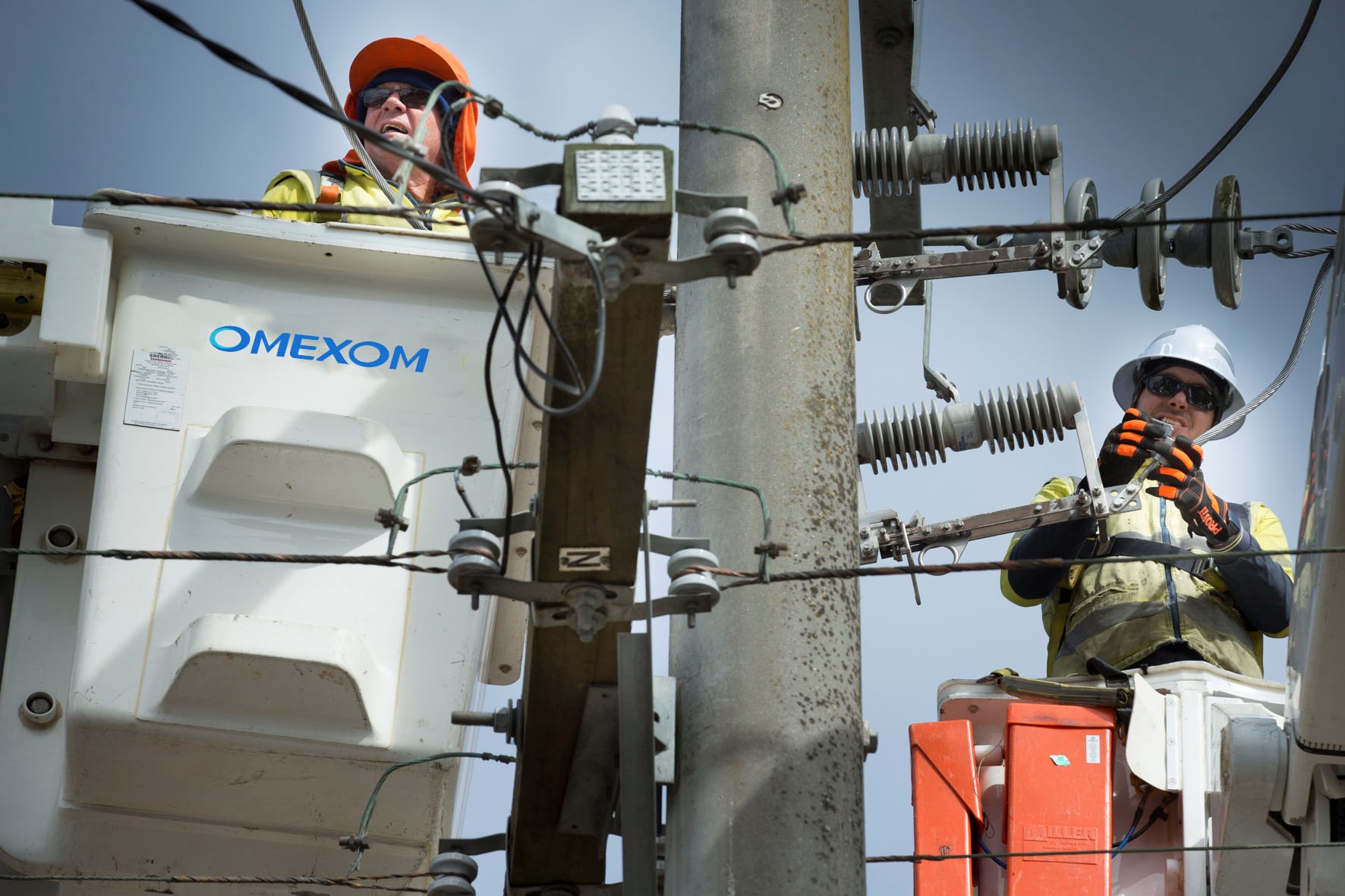 Overhead distribution line work
Omexom has broad experience in the Construction, Servicing and Maintenance of overhead and underground electricity distribution systems.
Services include:
Overhead and underground construction, maintenance and upgrades – HV and LV;
Live line "glove and barrier" and "hot stick" techniques;
Metering services including meter replacements and new connections;
Specialised cable jointing services;
24/7 Fault repair services including emergency response;
We understand how electrical distribution networks operate and the challenges network owners face in managing the balance
between operational, maintenance and capital requirements.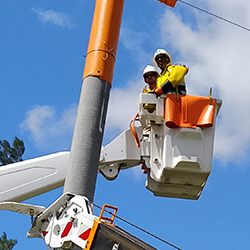 Underground
Omexom has broad experience in the construction, servicing and maintenance of overhead and underground electricity distribution systems. These skills extend across asset owners in several Australian states.
Overhead, renewables, underground construction, maintenance and upgrades – HV and LV:
HV up to and including 33kv
Paper lead jointing
Live LV jointing
As a service provider, our employees are our key assets and the skills, behaviour and attitudes they convey to our customers are a key differentiator for the company.
Asset Management
The delivery of high-quality Asset Inspection services is a core business for Omexom Australia and our successful track record in delivery of these services in Australia extends from 1997.
With many billions of dollars invested in electricity poles and wire networks, the importance of a comprehensive Asset Management and Inspection process is widely recognised and adopted within the electrical distribution and transmission industry.
Omexom is recognised as a leading supplier of Asset Inspection Services across Australia with contracts involving inspections of more than 350,000 poles and related assets per annum.
Our capability includes a wide range of condition assessment services to ensure the safety, reliability and durability of electrical networks, which includes: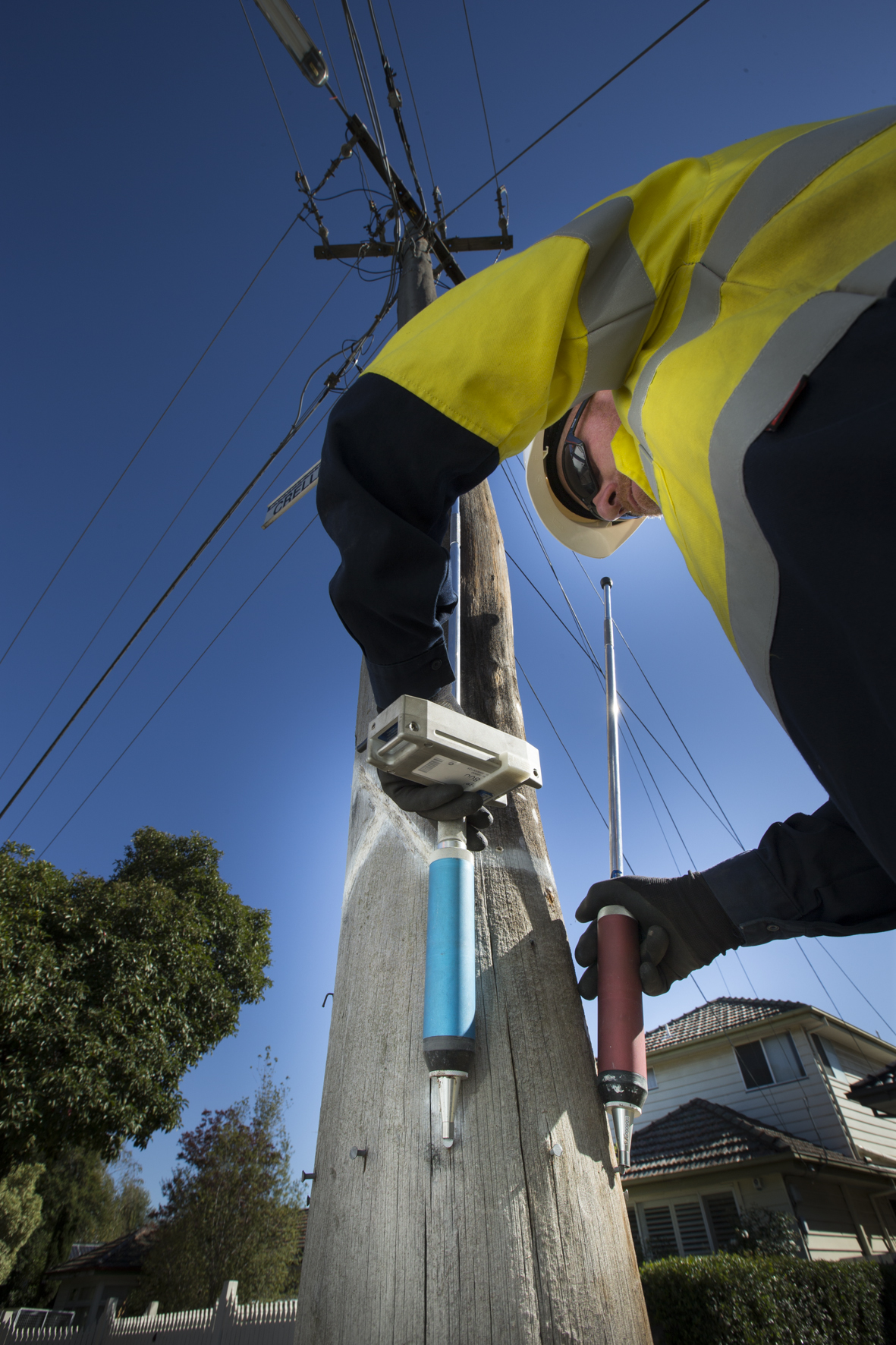 Below ground inspection of timber, steel and concrete poles;
Above ground inspection of poles, using image stabilised binoculars;
Detailed inspection of pole top hardware using pole cam and UAV technologies;
Conductor assessment;
Aging timber pole assessments utilising WoodScan technology, a non-evasive non-destructive test using acousto-infrasonic test method;
Pole top structure assessment that assesses the Health Index (HI) of a structure based on actual pole loadings using limited state methods, ensuring design compliance and asset integrity to Australian Standards;
Electrical powerline surveys utilising Thermal imaging (infrared) and corona discharge technologies;
Single Wire Earth Return (SWER) and Distribution Asset Earth inspection, testing and repair;
Treatment of timber decay and corrosion of steel structures;
Pest management to control various insects, termites, ants, wasps, bees etc.
Asset Management Planning & Coordination
Network Surveys and Reporting
Vegetation Encroachment surveys utilising ground based and LiDAR technology
Minor maintenance tasks undertaken at the time of inspection.
We are confident that in drawing on our extensive experience in providing asset inspection services to Australian network owners, we can deliver exceptional commercial value to our customers.
Our team can leverage experience gained from similar operations and combine proven processes, procedures and methodologies to deliver efficiencies at all stages of the process.
Smart Metering
Our smart metering capability include providing new customer connections, meter alterations, the bulk change of obsolete meters and first response fault attendance.
Victorian Government mandated initiatives resulted in the successful rollout of several advanced metering contracts to Victorian households and small businesses over extended periods. The programs required the exchange of meters across all domestic, commercial and industrial premises on an unprecedented scale.
Distribution contract references